Until 1988, the concept of Mergers and Acquisitions was not widely accepted in India. During that time, a very small percentage of the country's businesses came together, generally in the form of a friendly acquisition with a negotiated arrangement. Mergers and acquisitions assist a company in meeting its growth objectives. Mergers and acquisitions may be part of a company's plan to increase market share, geographically expand, reduce competition, profit from patents, or even enter new markets. As a result, corporations take advantage of other enterprises that are underperforming or governments that are eager to sell their assets.
What basically is Merger and Acquisition?
A merger is the fusion of two or more firms into a new and single entity. There are five types of mergers i.e. conglomerate, congeneric, market extension, horizontal, and vertical.
Whereas, an acquisition is a process when a company purchases majority shares of another company to gain control of that company. That is done when a company buys more than 50% of the shares of another company.
Benefits of Merger & Acquisitions
Increasing Market Share: One of the common reasons why mergers and acquisitions are done, in order to increase the market share of the merger and acquirer company.
Eliminates Competition: The rivals are eliminated through Mergers and Acquisitions(M&A). This in turn motivates both the merged and the acquirer company to tap various market opportunities collectively.
Diversification of segments: M&A also led to the diversification of Segments of both merged and acquirer companies, which enabled them to capture the potential market with much ease.
Increasing Production Capacity: In the case of a manufacturing company, M&A helps to increase the production capacity of the company.
So, let's have a look at some of India's Top 10 Biggest Mergers and Acquisitions
Mergers
1. FutureGroup and Heritage Food Merger
Future Group, the parent firm of the well-known 'Big Bazaar' retail chain, merged operations with the Heritage Foods group in 2016. This transaction had two effects: Heritage gained a significant supply chain from Future Group, and Future Group received another product to expand its product portfolio. Prior to the merger, Heritage Group's valuation was around 295 crores, but it skyrocketed to 600 crores after the merger.
2. Mittal Steel and Arcelor Steel Merger
Mittal Steel merged with Arcelor Steel, a steel firm established in Luxembourg. Building together the world's largest steel business named 'ArcelorMittal' Steel. In January 2006, Mittal Steel chairman Lakshmi Mittal launched a hostile bid for Arcelor. Following a protracted battle, the two companies merged to establish the world's largest steel corporation, owning 10% of the global steel market. The deal was worth $33.1 billion.
3. Vodafone and Idea Merger
While the industry as a whole was suffering a slew of issues operating in India, the arrival of Jio was like the final nail in the coffin for both companies' particular operations.
Vodafone-Idea, as a united firm, was now second only to Airtel. In terms of pay, the businesses have nearly equal stakes in the post-merger entity, with Idea owning 54.9% and Vodafone owning 45.1%.
4. Bank of Baroda, Vijaya Bank and Dena Bank Merger
Vijaya Bank and Dena Bank joined with Bank of Baroda, establishing India's third largest bank, on April 1, 2020, in what could be called the country's first three-way merger.
Because all three banks are at least partially government-owned, compensation is not relevant here; nonetheless, the government did inject Rs 5042 Cr to strengthen Bank of Baroda's capital base and help it handle the higher expenses.
Acquisitions
1. Flipkart's Acquisition of Myntra
Flipkart, the proud Indian e-commerce giant sponsored by Singapore-based firms, acquired the fashion label 'Myntra' in 2014, with a product range that included fashion and lifestyle items. This transaction was completed for a hefty Rs 2000 crores, yet Myntra continues to function as a fashion clothing division of Flipkart.
2. Zomato's Acquisition of UberEats
Zomato paid Rs 2492 crores to acquire Uber Eats in January 2020, beating out the only competitor Swiggy. Uber Eats, in addition to being late to the market, didn't have any unique selling point that set it apart, resulting in poor success in the Indian market.
At the same time, Zomato and Swiggy aggressive competitive efforts resulted in massive profits for both, as well as consuming market share from any possible competitors.
3. Tata Motors' Acquisition of Jaguar
Tata Motors Ltd., based in India, announced in June 2008 that it had completed the $2.3 billion acquisition of the two historic British brands Jaguar and Land Rover from Ford Motors, based in the United States. It enabled a struggling Ford to shed two losing vehicle divisions.
4. Aditya Birla Group's Acquisition of Jaypee Cement
Jaypee Cements had a lot of debt with them in 2016, which is why they had to let go of their IPL club 'Deccan Chargers' in 2012. However, in a deal reached with the Aditya Birla group that finalised in early 2017, Jaypee cashed out by selling all of its assets to Ultra Tech, another cement business, for Rs 16189 Cr.
5. Hindalco's Acquisition of Novelis
Hindalco Industries Ltd. is an aluminium manufacturer and a subsidiary of the Aditya Birla Group, whereas Novelis is the world leader in aluminium rolling, producing around 19% of all flat-rolled aluminium products.
Hindalco decided to pay $6 billion for Novelis, a Canadian company, including $2.4 billion in debt, to become the world's largest rolled -aluminium producer. Novelis is a subsidiary of Hindalco and is owned by Hindalco.
6. UPL's  Acquisition of Arysta LifeScience
When Arysta LifeScience announced its intention to sell in 2018, UPL was aiming to diversify its product portfolio and expand its market reach. Prior to this transaction, UPL was primarily an agro product manufacturing company. The deal was valued at $4.2 billion, and it resulted in UPL becoming the world's fifth largest agrochemical firm.
Summary Of 10 Biggest Mergers and Acquisitions in India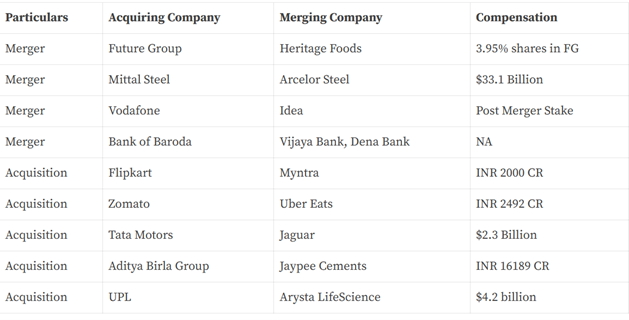 Conclusion
Companies are using mergers and acquisitions to restructure their businesses for a post-Covid future, and the higher deal pace is being driven by faster transformation across industries. Cash reserves and foreign direct investment inflows are at all-time highs, private equity (PE) dry powder is abundant, and interest rates are at all-time lows.
Companies are responding to disruption and growth expectations in a variety of ways, including acquisitions. M&A gives established enterprises a new lease on life.