Have you ever imagined that If it is announced by the government that all the economic activities prevailing in the country will be limited to daylight due to power shortages then what would be its consequences? Of course the corporate people working in big corporations will be the happiest ones, but the unemployed people, businesses and industries will be adversely affected by these developments. The night shift system will be abolished resulting in mass layoffs, which will create a panic situation in the country. Let us thank the industries involved in power generation and distribution for their contributions to the country. Here in this article, we are going to analyze and compare two power sector giants Adani Power and Tata Power.
India, the world's third largest consumer and producer of electricity, has made significant strides in accelerating the country's energy transition. India became the first country to make such commitments in the UN General Assembly when it pledged to increase installed renewable energy capacity to 450 GW by 2030.
The Two Power Sector Giants
1. Adani Power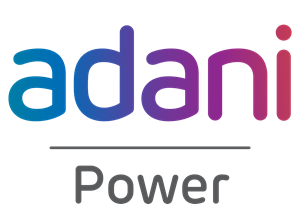 Being India's largest thermal power company with a power generation capacity of 13,610 MW, belonging to the Indian conglomerate Adani group. Adani power was the world's first company to set up a coal-based supercritical thermal power project.
Furthermore, the company has launched several projects throughout the country such as in Madhya Pradesh, Gujarat etc. with a view to obtain the potential of 7000 MW. Adani Power holds 16% of all investments made by the private sector in India's power generation sector.
2. Tata Power
Being India's largest integrated power company, belonging to the Indian conglomerate Tata group. Its presence across the value chain from generation to transmission and distribution of power through traditional and renewable sources has helped it establish itself as the largest integrated power company in India. The company holds and manages a huge distribution network of more than 400 thousand circuit km across India including a transmission network of 3,532 km.
The company aims for conventional and clean renewable energy sources as they have developed a solar plant in Gujarat. In addition, the company is involved in consumer-oriented businesses such as solar rooftops, pumps, microgrids, and electric vehicle (EV) charging stations.
Business At a Glance
| | Adani Power | Tata Power |
| --- | --- | --- |
| Product/Services | Power generation- Thermal and Solar | Power generation – Thermal and Renewable Transmission Distribution Consumer centric business energy as a service power Trading |
| Competitive Advantage | Pan India presence long term PPA Pioneer in ultra-supercritical and supercritical technologies Strategically located plants leading to lower expenses | Diversified presence across energy value chain Pan India presence experienced and well established player in the energy sector |
| Risks | Unavailability of coalFluctuations in the coal prices | Unavailability of coalFluctuations in the coal prices |
Adani Power vs Tata Power: Key Metrics
We have jotted down some parameters on which our comparison will be based upon:
1. Market Share
If we talk about the market share in the power generation and distribution sector, Tata Power holds the major stake. Both Adani Power and Tata Power fulfills more than 50% power requirements of the country.

Here, Tata Power becomes victorious with the huge market share of 42%
2. Sales and Net Profit Growth
An astonishing fact can be witnessed while comparing the sales and Net Profit Growth of the two power companies. Tata Power which holds 42% market share of the country is less profitable than the Adani Power who hold just 15% market share. Even though Tata Power does have greater sales.
The reason behind these differences is that tata power incur high manufacturing and employee cost which accounts for 72% and 7% of its revenue as compared to Adani Power which incurs 61% and 2%. Here, Adani Power proves to be cost effective.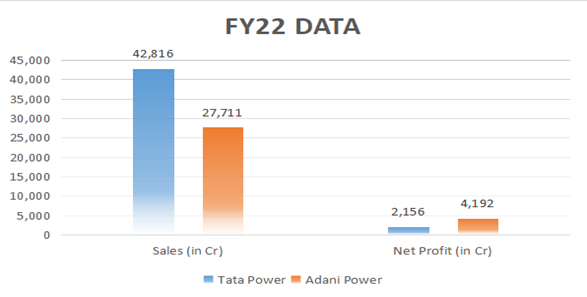 3. Dividend Payout
Even though Adani Power is highly profitable and has greater net profit margins, it didn't provide any dividend to its existing shareholders. Which could act as a discouraging factor for the new investors.
On the other hand Tata Power has provided a huge dividend of 32%(FY22) to its shareholders.
4. Return On Equity(ROE)
Here Adani power wins the battles by providing 370% returns to its investors.On the other hand, Tata Power just provides a consistent return of 8% to its shareholders.
5. Debt to Equity Ratio
Generally, the companies engaged in the power generation and distribution sector have an unfavorable debt-equity ratio(above 1) as the business is mainly capital intensive which requires huge amounts of capital investments. But if we average this ratio across the companies then the Adani power stands at top in taking debt 8 times more than its equity. Which should be the major cause of concern for the investors lured by its ROE rate.
On the other hand, Tata Power has maintained its debt-equity ratio at 2.21. Which is slightly above average but still acceptable being the capital intensive business. So, here Tata power gives relief to its both existing and upcoming investors.
Other Key Metrics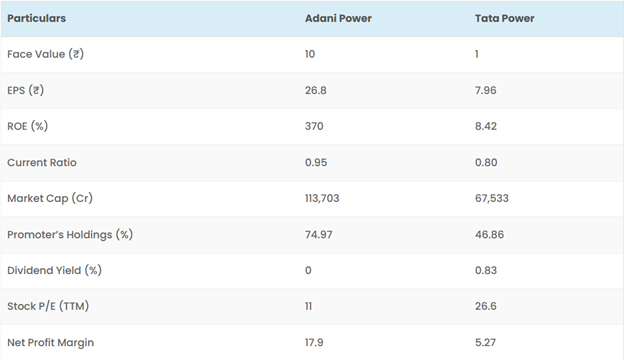 Adani Power vs Tata Power: Which is better?
Tata Power has a consistent edge over Adani Power as it has shown less but consistent returns throughout the financial years. Moreover, the company has a far better D/E ratio than its rival Adani Power.
In terms of cost effectiveness Adani power has an edge over Tata Power. As they are able to manage their expenses even though they incur less sales if compared to Tata Power. Additionally, the stock has gained huge investors' interest in recent years, but the most of the investors herein are short term as the stock has higher volatility than its rivals and the higher growth along with the higher D/E raises a cautious alarm in the minds of investors.
In conclusion, it can be said that if you are looking for a long term perspective and want to generate consistent returns (including dividends) throughout your holding period then "Tata Power" will be the best option for you to invest in. But if you are looking for a short-term perspective and want to generate quick and high returns, then "Adani Power" will be the better option.