Venus Pipes and tubes is a private limited company engulfed in trading and manufacturing of stainless steel tubular products. They were incorporated in February 2015. Based out of Gujarat, their production facility is a vast area of 57,973 Sq Mt based in Kutch region of india. The company holds pride in supplying its wide product range to more than 20 countries internationally. The promoters of the company are Megharam Sagramji Choudhary, Jayantiram Motiram Choudhary, Dhruv Mahendrakumar Patel and Arun Axaykumar Kothari.
They have now decided to list their shares on both BSE and NSE. More about the company and its IPO can be found below.
About Venus Pipes & Tubes Ltd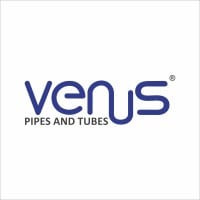 Venus Pipes is one of the growing stainless steel pipes and tubes manufacturers and exporters in India having over six years of experience in manufacturing of stainless steel tubular products. Within a very short span of time, the company has transformed into a mammoth organization with the help of visionary leadership and a committed team of go-getters.
 Today Venus has become one of India's most trusted and leading Stainless Steel Pipes & Tubes manufacturing companies. Their vision is to be a leading manufacturer and provider for demanding and challenging applications for stainless steel pipes and tubes.
You can also check IPO GMP
Venus Pipes Limited IPO Details
The Company has decided to go public with an issue size of 50,74,100 shares of 10 each aggregating up to 165 cr
IPO opens on may 11 10.00 AM and closes May 13 5.00 PM IST
Amount of investment allotted to Qualified Institutional buyers is 50% retail investors is 35%
Allotment date is set on May 19th
The lot Size 46 shares with a price bandwidth of Rs. 310-326
Emkay Global Financial Services Ltd and InCred Capital Financial Services Pvt Ltd are the IPO's Lead managers
The shares will be listed on 19th May 2022.
An individual can maximum apply for 13 lots
Objectives of the IPO
The Proceeds is said to be used towards financing its expansion plans and backward integration that will eventually aid in working capital requirements.
The objectives of this IPO as per prospectus is to 1) Meet general purpose requirements 2) Meet long term working capital requirements and 3) boost their production capacity and bring down costs to compete better in the global market.
Key Strengths
Proposal to expand existing manufacturing capacity
Policy initiatives such as announced Domestically Manufactured Iron & Steel Products Policy will be benefiting factor
Alliances with global level investors and domestic leaders
Large Customer base
Customer Diversification
Young and energetic team of engineers
Holding of International Accreditations
Key Risks
Being a manufacturing industry, the effect of Covid 19 still has a pervasive effect on the operations and demand
High competition from big influential players from the industry
Absence of long term contracts with customers for continual purchase
Steel companies are always volatile in the stock market
Fundamentals
Key Points on Capital Structure
The paid up Equity share capital of the company amounts to Rs 87.33 million and has debt payables amounting to Rs 209 Million.
The Directors of the company hold approx 41% of the company's total equity share capital.
The Debt payables consist of Rs 129 million of unsecured loans and around Rs 80 million in secured loans.
It can be noted that Director's Loans amount to 1.07% of total loans.
Revenue and Profit
The annual Revenue reported by the company has increased by a whopping 74% when compared to the preceding year. Revenue in millions for FY 2020-2021 : 3093.31Cr
FY 2019-2020 : 1778.08Cr
It reported a profit after tax (PAT) of Rs 23.63 crore in the financial year 2021-22. For the nine months ended, the company reported a net profit of Rs 23.6 crore with a revenue of Rs 278.28 crore
The Profit before taxes has increased by 6.35% as the PBT to sales in the FY 19-20 was 3.65% and for the year 20-21 was 10.01%.
Other Points
No significant negatives found in the Auditor's report
Offer is available at price to earnings of around 28-30 times is FY21 earnings
No Significant Legal fees or penalties
High Debt Equity ratio of 2.51
Peer Comparison
| Company Name | Sales | Market Cap | Profit (Cr) | EPS | PE Ratio |
| --- | --- | --- | --- | --- | --- |
| S A I L | 25246.99 | 34758.41 | 1528.54 | 32.53 | 2.59 |
| APL Apollo Tubes | 3230.38 | 22098.99 | 127.88 | 9.20 | 95.97 |
| Ratnamani Metals | 927.01 | 10404.91 | 89.09 | 68.52 | 32.48 |
| JSW Steel | 38071.00 | 156006.09 | 4516.00 | 75.89 | 8.50 |
| Tata Steel | 69323.50 | 142330.31 | 9835.12 | 271.71 | 4.29 |
| Jindal Steel | 12524.86 | 47368.34 | 1866.10 | 103.05 | 4.51 |
| Venus Pipes | 309.31 | 13.81 | 30.95 | 27.06 | 32 |
Conclusion
Venus Pipes and Tubes Limited has been showing rapid growth, scale and synergies across countries. The fundamentals of the company look very promising even though the share price might look highly valued at first sight. The company is scheduled for a massive expansion and when backed by heavy backing by stakeholders who also seem to be the promoters of the company, the company looks to be on the right path. My recommendation would be to consider holding Venus Pipes and tubes stocks as a Star investment for the long term. Investors shall take note of all risks that may be involved due to the inherent factors of the stock market. The issue being fully priced, investors may look for a medium to long term holding.